The need for digital transformation is crucial. Today, no one moves without a mobile device, and all transactions are accomplished while on the move. All sectors have pushed forward with digital and online platforms as a result of their relevance, and freight forwarders have followed suit.
What is Digital Freight Forwarding?
Digital freight forwarders are attempting to eliminate paperwork by producing, uploading, and sharing all papers on a web platform, allowing all stakeholders quick access. The documents can be reviewed at any moment in the future if necessary.Customers can communicate with one another swiftly by using digital tools and applications. This facilitates communication and allows for quick responses.
Digital Freight Forwarding is a way to have more a responsive and reliable supply chain. The following article talks about how it is doing the same.
Freight forwarding entails a slew of paperwork, including airway bills for aerial shipments, payment invoices, certificates of origin, shipper's instructions, and bills of lading, etc. making the documentation process extremely time-consuming. Excessive paperwork burdens retailers, causing them to struggle, particularly in the case of exports for larger orders and intricate trade routes.
Over their web portals, digital freight forwarders offer the possibility of auto-generating crucial shipping papers. By sharing documents and providing buyers and sellers with rapid access to information involving rules and regulations for overseas trade, digital freight forwarders reduce the complexities of the process, allowing businesses to operate more efficiently and with greater ease.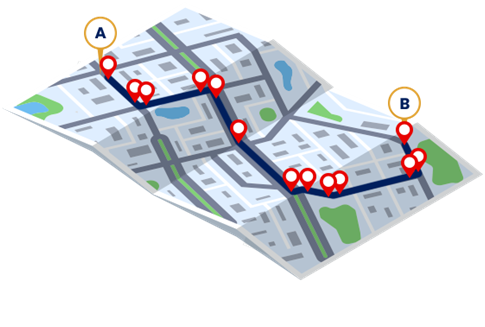 For all parties involved in the supply-chain process, real-time shipment tracking, including exact location and details on the condition of items, is essential. The projected delivery time is very important for both importers and exporters because future plans and choices are strongly reliant on prompt cargo receipt.
Through continuous updates to retailers on their items in transit, digital freight forwarders generate minute-by-minute information about a running shipment. They provide significant openness and response to retailers. As a result,retailers can then provide their customers with a detailed picture of the shipments based on the data.Thus, buyers can change their plans or decisions to account for supply chain delays, and hence digital freight forwarding can easily eliminate concerns connected with shipping process risks.
Customisations and cost efficiency:
While retailers may rely on freight forwarders to help them with their deliveries, each retailer may have different needs and goals for their shipments. Traditional freight forwarders might not be able to provide the kind of individualised service that each customer requires.On the other hand, digital freight forwarders can assist with customised offers by catering to a variety of factors such as modes of transport, routes, and costs, among others, that are made uniquely for them.
Retailers can use digital freight forwarding to get different permutations and combinations of routes, providers, and even available rates to fit their needs. This, in turn, can help merchants improve their efficiency in delivering products while also lowering expenses.
Multiple carrier options:
Companies in the retail sector frequently face challenges in locating the best transportation service, the best price, the best delivery route, and the best time to ship their goods. Traditional freight forwarders may provide retailers with fewer options in this aspect. On the other hand, digital freight forwarders offer a variety of possibilities, hence providing the best services at optimal cost.
Transcom Logistics on digital freight forwarding:
Digitisation provides deep visibility and information at all levels while also ensuring that expectations are clear. Aside from transparency, it also aids in the removal of obstacles while constructing supply chains that are flexible and capable of reacting quickly in the event of an unexpected shift. As a result, digital freight forwarding can give the business a technical makeover.
Transcom Logistics, as digital freight forwarding company in Mumbai, mostly works on digital methods, providing all the services based on customer's customisations and thus catering to every requirement. Transcom Logistics, the best logistic & cargo company in Mumbai, envisions to digitally transform the logistics sector better and beyond.
By providing exports/imports all across the globe, Transcom is becoming the first choice for any retailer.